Mechanical Engineering Program
Start your Engineering Career with a Degree at A&M-Texarkana
Mechanical Engineering is perhaps the most diverse and versatile of the engineering disciplines that are responsible for the design and development of a mechanical system and others. It encompasses key elements of dynamics, statics, vibrations, and controls and many industries use these skills. At Texas A & M University-Texarkana, we provide the theoretical foundation and practical basics to prepare you for a successful engineering career through a unique combination of hands-on experience, state-of-the-art technologies, and innovative teaching methods. This program covers all aspects of mechanical engineering i. e. Motion, Energy, Mechanics, Materials, Manufacturing, Systems and Controls, Vibrations, Computer-Aided Design, and Engineering Design. Mechanical engineers work in diverse areas, including the aerospace, automotive, robotics, forest products, metal fabrication, and power-generation industries. This program will prepare you to work in any branch of mechanical engineering following graduation. The collaborations with local companies and government agencies provide curriculum cutting-edge, and internship opportunities.
---
Is this program a good fit for you?
Mechanical engineering students are typically interested in:
Creative mechanical design & manufacturing
Building new devices
System dynamics and control
Transportation systems
Solving real-world problems
---
What you will learn
Mechanical engineers design and build solutions to a range of problems, improving efficiency across a wide range of industries. A degree in Mechanical Engineering from Texas A&M-Texarkana provides exposure to skills and careers in the growing fields of automotive, robotics, electronics, aerospace, project management, etc. Additionally, this program enhances students' skills in various engineering fields including mechanical design, complex problem-solving, operations analysis, advanced technical skills, and project management. Additionally, students will demonstrate competencies in leadership, decision-making, and entrepreneurship.
Courses to Prepare You for Your Career
Foundation courses include mechanics, CAD, programming, introduction to engineering, electric circuits, engineering analysis, and mathematics.
Core mechanical engineering courses include thermodynamics, fluid mechanics, heat transfer, mechanics of materials, materials science and engineering, manufacturing and materials selection in design, dynamics and vibrations, solid mechanics in mechanical design, and control systems.
---
Student Outcomes
The skills that our students can expect to master in our Mechanical Engineering Program by graduation are rooted in the following Student Outcomes:
An ability to identify, formulate, and solve complex engineering problems by applying principles of engineering, science, and mathematics
An ability to apply engineering design to produce solutions that meet specified needs with consideration of public health, safety, and welfare, as well as global, cultural, social, environmental, and economic factors
An ability to communicate effectively with a range of audiences
An ability to recognize ethical and professional responsibilities in engineering situations and make informed judgments, which must consider the impact of engineering solutions in global, economic, environmental, and societal contexts
An ability to function effectively on a team whose members together provide leadership, create a collaborative and inclusive environment, establish goals, plan tasks, and meet objectives
An ability to develop and conduct appropriate experimentation, analyze and interpret data, and use engineering judgment to draw conclusions
An ability to acquire and apply new knowledge as needed, using appropriate learning strategies
---
Featured Courses
MEEN 360 - Manufacturing and Materials Selection in Design
Selecting materials and manufacturing processes in design; emphasis on material mechanical properties; microstructure production and control; manufacturing processes for producing various shapes for components and structures; use of design methodology.
MEEN 368 - Solid Mechanics in Mechanical Design
Stress analysis of deformable bodies and mechanical elements; stress transformation; combined loading; failure modes; material failure theories; fracture and fatigue; deflections and instabilities; thick cylinders; curved beams; design of structural/mechanical members; design processes.
MEEN 465 - Introduction to Nanotechnology
This course introduces the basic principles behind nanotechnology and associate technologies. The lectures mainly focus on processing techniques of nanoparticles, nanofibers/wires, nanotubes, nanofilms, and nanocomposites using physical, chemical, and physicochemical techniques, as well as the characterizations and potential commercial applications. Throughout the classes, students are expected to gain an understanding of these materials and fabrication techniques, and how they are applied in nanomaterials and nanodevice fabrication.
MEEN 490 - Senior Design I
This course is taken by seniors as the first part of the senior design experience in the semester before MEEN 491. Projects may involve the design of a device, circuit system, process, or algorithm and topics covered may include the design process, project planning and management, and project costs, and includes aspects of ethics in engineering design, safety, environmental considerations, economic constraints, liability, manufacturing, and marketing. 
MEEN 333 - Principles of Thermodynamics
This course examines theory and application of energy methods in engineering, conservation principles to investigate "traditional" thermodynamics, and internal flow fluids. Topics include the Laws of Thermodynamics, entropy, refrigeration, fluid properties, momentum, and head transfer.
Career Readiness
The engineering department participates in specialized career fairs organized by the career service offices focused on guiding engineering students seeking internships or employment.
Industry Connection
Students, faculty, and alumni relate to the engineering community through industry tours, guest speakers, internships, professional networking events, and other opportunities.
Accomplished Faculty
Engage with exceptional faculty who are industry leaders and significant teaching and research scholars, producing cutting-edge research in their fields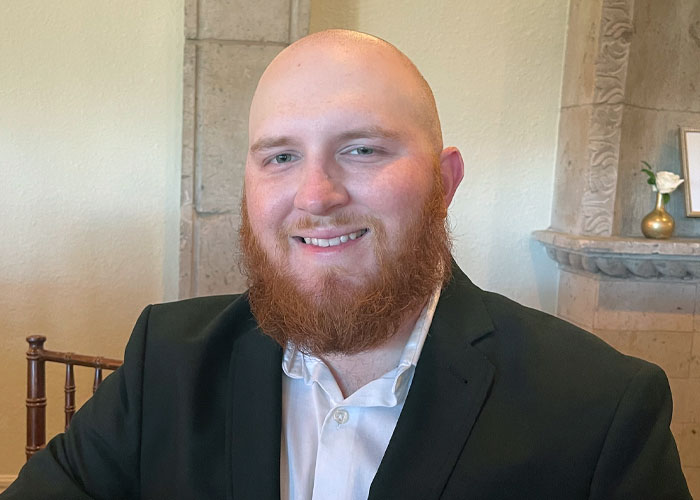 BLAKE CROCKER - 2022 GRADUATE
"The Mechanical Engineering program at A&M University Texarkana is great for the student that wants to have a one-on-one relationship with the faculty. The classes are a perfect balance of hands-on learning, as well as the theoretical knowledge behind a principal. With world-class professors, it is truly a great learning experience".
Blake Crocker graduated in Spring 2022, Mechanical Engineering.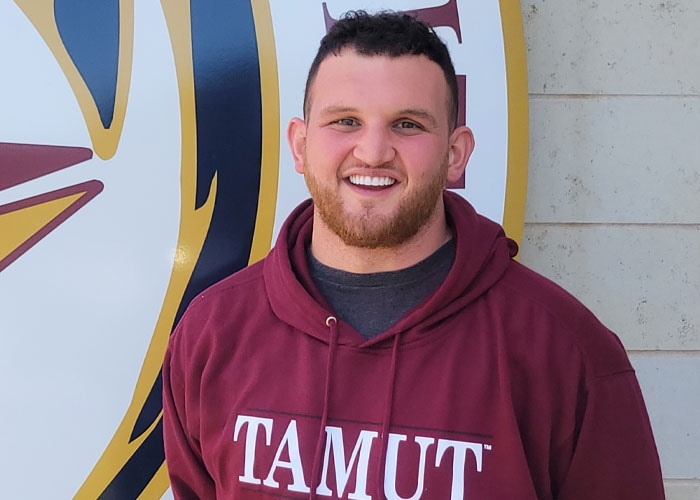 ZACHARY RATCLIFF - MECHANICAL ENGINEERING STUDENT
"The mechanical engineering program at Texas A&M, Texarkana, is very beneficial for those who are seeking education in the process and development of the mechanical design. The professors here show they care about your success and future and are more than willing to provide help and support for any challenges you encounter."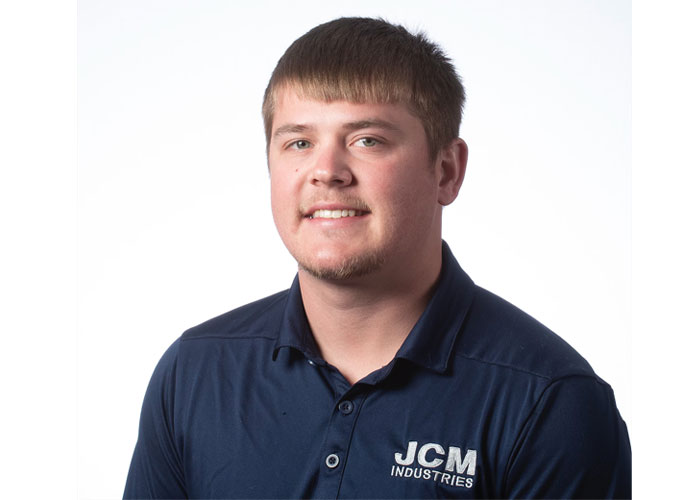 BROOKS MINTER - MECHANICAL ENGINEERING STUDENT
"Texas A&M-Texarkana provided a great mechanical engineering program locally. I am very appreciative of the staff. They have been super helpful in the time I have spent at TAMUT and are very knowledgeable in the subjects they teach."