Doctorate Program at A&M-Texarkana
Texas A&M University-Texarkana provides many opportunities for learning and growth through several undergraduate and graduate degree programs, and many courses are offered online. 
Because of our unique campus environment, A&M-Texarkana promotes academic self-discovery for students with a variety of degree programs in these colleges, all taught by professors hailed in their respective fields.  And within these programs, opportunities exist for collaborative research, study-abroad programs, and hands-on learning environments. Below you will find our doctorate program offered at A&M-Texarkana
---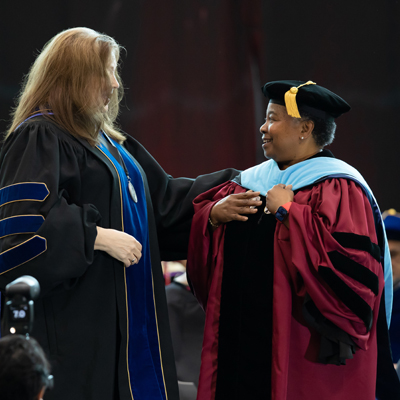 Education Leadership
Doctorate
The Scholars of Practice doctoral program in Education Leadership at Texas A&M University‑Texarkana is a degree designed with a 
public school and higher education

 
emphasis to meet the demands of education today. Graduates of the doctoral program often pursue leadership positions in public school districts, higher education, state or federal agencies, or the private sector. The Scholars of Practice degree is a web-enhanced doctoral program in which courses are approximately 50% online and 50% face-to-face delivered in a seminar format, providing flexibility for working students as well as the personal interaction for which A&M-Texarkana is known. Typically this translates into three weekends per semester on campus.
Contact Us:
Texas A&M University-Texarkana
7101 University Avenue, Texarkana, Tx. 75503
(903) 223-3000